Lake County Wineries
With over 30 wineries, Lake County offers an exciting opportunity for visitors to explore small, boutique producers. With a history as rich as its soil, Lake County is once again thriving as grape growers and vintners alike discover the superb quality of Lake County grapes. The area is booming with new, innovative wineries focused on sustainability, organic, and biodynamic principles. Below are a few of our favorite wineries that offer tastings, beautiful scenery and tours.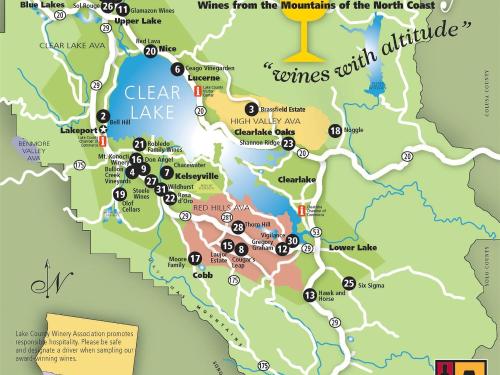 Moore Family Winery
The Mediterranean-style tasting room alone is breathtaking, with picture windows lining the entire building. Outside the tasting room is the rest of the seventy-acre estate - ten acres planted with vines.

Brassfield Estate Winery
A breathtaking estate with award winning wines. This beautiful estate is tucked away in the High Valley Appellation. The elevated valley floors and steep ridges produce rich, fruit-driven wines. A gem of Lake County!
Shannon Ridge Family of Wines
Overlooking Anderson Marsh State Park at the southern end of Clear Lake, Vigilance Vineyards is home to Shannon Ridge Family of Wines tasting room. They offer tasting flights from Shannon Ridge; Vigilance Vineyards; High Valley Vineyards; Dalliance and Playtime. The Shannon's practice sustainable farming by using sheep in the vineyards to maintain the natural cycle of the land, a system Clay had trade-marked the "Ovis Cycle".